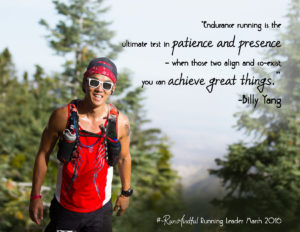 "Endurance running is the ultimate test in patience and presence – when those two align and co-exist, you can achieve great things." -Billy Yang
After leading a mostly sedentary life, Billy discovered life's potential and possibilities upon discovery of the world of trail and ultra running. When he's not running in the beautiful Santa Monica and San Gabriel Mountains of Southern California, he can usually be found with a camera in hand telling the story of others who share his passion for the great outdoors through his films. While he considers himself a citizen of the world, his main residence is currently in the small, quiet town of Hermosa Beach, CA.
Check out this video on Run Mindful by Billy Yang Productions, where he beautifully captured the essence of our retreats. http://bit.ly/1OYY7i3
Video by billyyangfilms.com.
Meet the rest of the Run Mindful Team here.