Skip to: Lodging • Travel • Schedule • Meals • Organizers • Trails • Cancellation • FAQ
Registration
Come join us in Gastein, Austria's beautiful Austrian Alps!
September 5-8, 2019
(Currently we do not have a 2020 retreat planned – but definitely hope to be back in the future!)
Registration Costs & Dates
| | |
| --- | --- |
| $1200 | Registration w/ Double Shared Room |
| $1425 | Registration w/ Single Private Room |
Registration includes:
Trail Running – Beautiful guided trail runs over iconic trails in the Austrian Alps of Austria.
Mindfulness – Mindfulness Training and materials.
Meals – Delicious, healthy meals are included in the registration fee.
Event Transportation – Transportation from host hotel to events during the event weekend.
Lodging at the Miramonte retreat hotel. Room type options with registration.
Sponsor Swag
Participants need to provide:
Travel to and from the host hotel in Gastein, Austria for the retreat weekend.
Preferred running snacks and gels.
---
Austria Host Hotel Lodging

You can look forward to a young hotel concept in a house with tradition. Charming retro chic combined with modern design and fresh ideas. A place for individualists off the beaten track.
Enjoy the beautiful view of the mountains and the unique skyline of Bad Gastein with its hotels from the Belle­ Epoque period and the monumental waterfall.
Hall, bar and restaurant work as a relaxing living room for our guests: Italian cafe-bar during the day and a vibrant hangout in the evening. Perfect espresso, fragrant pastries, international cocktails and cool bar music. Fresh cooking with the best ingredients from the region; genuine and tempting. Newcomer wines from selected vineyards, fresh draught beer from the family brewery and revitalized water from the Gastein Mountains.
Room reservation is part of your retreat registration.
---
Organizers
Run Mindful Retreats are put on by Professional Ultra Runner Timothy Olson & Krista Olson to share the love they have for trail running, mindfulness, nature, travel and community. Read more about the Run Mindful Team here.
---
Travel
The closest airports are in Salzburg, Austria or Munich, Germany. By car, they are approximately this far from the Miramonte Hotel:
There are also paid shuttle options. Please email us for more information: runmindfulretreats@gmail.com.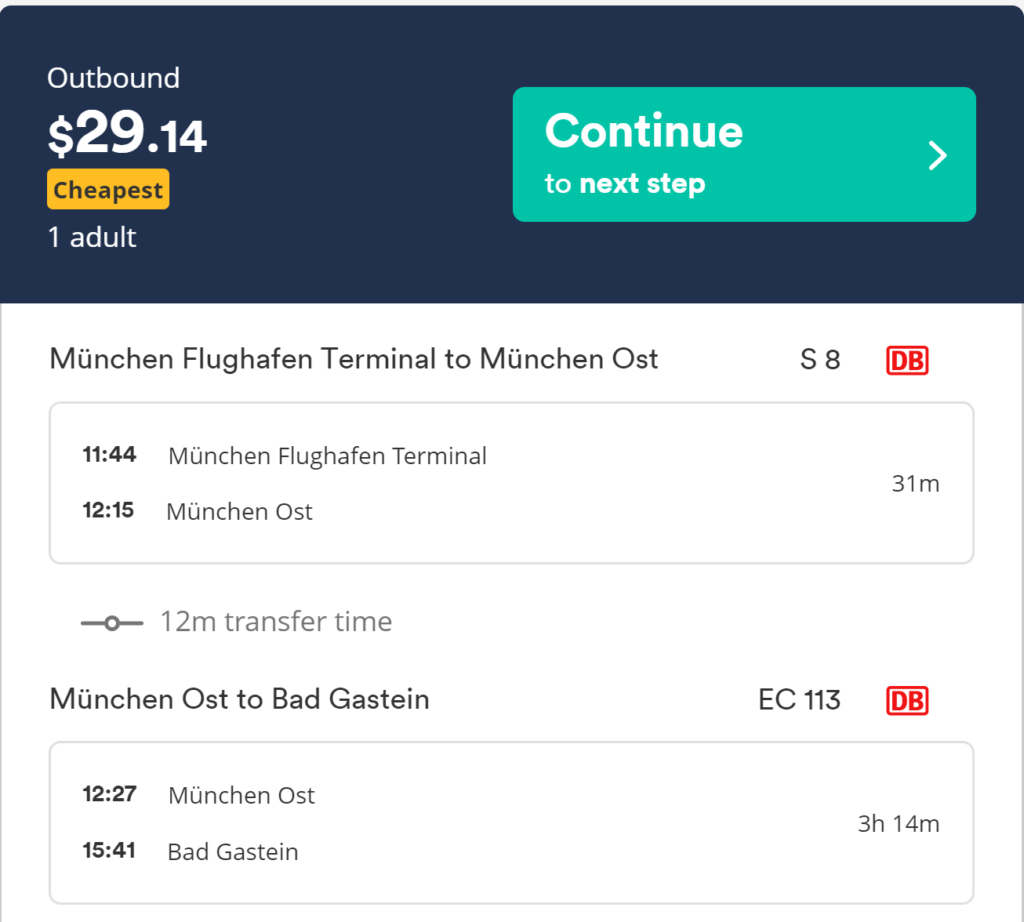 Train from Munich to Bad Gastein, Austria
There are multiple trains each day that go from the Munich airport to Bad Gastein, Austria. The train station in Bad Gastein is close to the host hotel, Miramonte. Miramonte offers free transport from the train station to the Miramonte.
See example train schedule and cost in the image to the right.
---
Schedules
Here is an example schedule from a prior year at our Boulder retreat. The final schedule will be emailed out to participants.
---
Meals
Meals are included and will be catered by the Miramonte Hotel. Dietary preferences can be accommodated and should be indicated with registration.
---
Trail Running Hikes
Beatiful trails around the Austrian Alps in Austria! More info coming soon.
---
Cancellation Policy
All purchases are final and your registration cannot be cancelled or transferred. In the event that you are unable to attend, please email us. If we can fill your spot, we will refund your registration minus $150 administration fees. No refunds will be given if canceled within two weeks of your registered retreat start date.
Event may be canceled if less than 12 participants. In the event the event is cancelled due to participation numbers you will receive a full refund of your Run Mindful Registration fees.
In the unlikely case of the camp being cancelled due to circumstances out of our control (natural disaster, etc) all fees will be refunded, minus $250 administrative fee.
---
FAQ
1. What ability of running / hiking is needed?
The retreat is directed towards runners and hikers of all ability levels. We will be running / hiking with opportunities for up to 1-5 hours each day. You will be able to shorten the routes to a level you are comfortable with each day. The routes will be 95% trail, in the mountains with significant ascents and descents.
2. I am not a fast runner will I be able to keep up with the pace?
Yes. We will have multiple group leaders and welcome hikers as well as all levels of runners.
3. I'm not used to altitude and mountain running. Will I be able to attend your retreat.
Everyone is different in how they react to altitude. The Gastein valley has an altitude range between about 1,000 m (3,285 ft) and 2,500 m (8,200 ft). You may have to slow down or hike to adjust to the altitude. We will have routes on varied terrains and allow our participants to pick the terrains they are most comfortable with. You will be doing a significant amount of climbing but will be hiking most of the climbs. At our previous retreats, most runners without mountain experience were a bit nervous but had no problem keeping up with their running group and enjoying the retreat.
4. I've never meditated before and I'm not sure I am capable of sitting still. Is that okay?
Yes! This is an introductory guide to mindfulness and meditation.The mindfulness workshops will be open to participants with no experience of mindfulness. It will be very approachable and hands on. For participant with mindfulness experience, it will be a great opportunity to grow your mindfulness practice.
5. What altitude will we be at?
Bad Gastein, Austria is at an altitude of 1,000 m (3,285 ft) and routes may climb up to 2,500 m (8,200 ft).
6. Do I need to stay at the host hotel?
No – but you will need to get yourself to and from Host Hotel for activities. Please contact us for pricing if you are local and do not need accommodations.
7. Can you accommodate special dietary needs?
Yes – we accommodate special dietary needs. When you register we have a question asking about your dietary needs. You should state what your needs are. For example: Vegan, Paleo, No Dairy, etc. and we will provide the appropriate food for you.
Run Mindful Retreats is an event of Adventure Mindful, LLC.
Run Mindful is a part of Adventure Mindful and will be expanding into other outdoor activities in the near future.
Questions? Email us at runmindfulretreats@gmail.com.