Darcy will be joining us as a running leader & guest speaker at our Boulder retreat in August 2016. She will also be a one-day guest at our June 2016 retreat.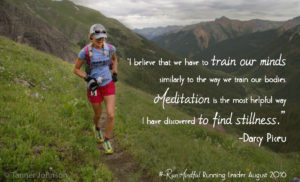 "I believe that we have to train our minds similarly to the way we train our bodies.  Meditation is the most helpful way I have discovered to find stillness." -Darcy Piceu
Darcy is a mom, professional UltraRunner, and therapist/counselor who lives and trains in Boulder, CO.  She has been running for 15+ years and racing ultras for most of that time.  With over 70 Ultra races under her belt, Darcy has finished almost all of these in the top 3.  She is a 3 time Hardrock 100 winner and 6 time finisher,   Rocky Mountain Slam winner in 2012 (3 first place finishes in 1 summer: Bighorn 100, Bear 100, Hardrock 100) ,  2 time Wasatch Front 100 winner,  Bighorn 100 and Bear 100 course record holder, Mt. Rainier/Wonderland Trail FKT in 22:22, AND UTMB France – 3rd place female and only American to place in the top 3 in 2011.
When she's not spending time with her 7 year old daughter, or running the trails, Darcy runs her own psychotherapy practice, working with teens, young adults and adults.
Favorite Quote: "The body benefits from movement, and the mind benefits from stillness." ― Sakyong Mipham, Running with the Mind of Meditation: Lessons for Training Body and Mind
Meet the rest of the Run Mindful Team here.